ZCS - ZIMO CV Setting Tool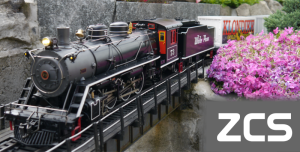 Der Gebrauch dieser Software erfolgt auf eigenes Risiko ! The usage of this software is on your own risk !
---
Inhalt
---
| | |
| --- | --- |
| Version: | 4.14 |
| Datum / date: | 2019-01-03 |
| Download: | zcs-414.zip |
ZCS ist Freeware und läuft ab Windows XP. Support ist nur per Email möglich. EXE-Datei aus dem ZIP extrahieren und installieren.
ZCS is freeware and runs with Windows XP and higher. Support is only possible by Email. Extract and install the EXE in the ZIP.
Beta der nächsten Version / Beta of next release : Beta
---
ZIMO-Decoder besitzen inzwischen eine sehr komplexe Konfiguration mit vielen CV-Werten. Mit ZCS kann man auf einfache Weise die CV-Werte in ZPR und ZPP Dateien anzeigen und ändern.
Die Software ZCS wurde von Oliver Zoffi entwickelt. Mitte 2014 übernahm ich die Wartung und Weiterentwicklung.
ZIMO decoder have a very complex configuration with a lot of CV values. ZCS is a small software tool to view and change the CV values in ZPR and ZPP files.
The software ZCS was developed by Oliver Zoffi. I toke over support and development in the middle of 2014.
Unterstütze Schnittstellen / Supported Interfaces :
ZIMO MXULFA
ZIMO MX10 (Test => Beta)
Nicht unterstützt / Not supported : ZIMO MX1, ZIMO MXDECUP
---
Die Anleitung zu ZCS ist hier verfügbar: Link (Hinweis: nicht auf dem aktuellen Stand)
The manual is available here: Link (remark: not up-to-date)
---
[N] neu/new [C] korrigiert/corrected
Datum / date
Version
Deutsch
english
Download
2019-01-03
4.14

[N] Neue Eingabemaske für Sound-Ladecode unter "Decoder/Sound Ladecode"
[K] Eingangsmapping CV400-428 Invertierung korrigiert
[K] Eingaben in CV-Liste wurden nicht in Dateien gespeichert - korrigiert
[K] Diesel-Sound neu max 20 Stufen (CV340,375)
[N] Sound Einstellungen CV836 und 837
[N] Mapping neue Taste für Verbundadresse (CV97)
[K] CV393 ergänzt

[N] Neu dialog for Sound loading code "Decoder/Sound Loading Code"

[C] input mapping CV400-428 inverting fixed

[C] inputs in CV list not saved in files - fixed

[C] diesel sound new 20 steps max

[N] sound settings CV836 and 837

[C] mapping new key for consist address (CV97)

[C] CV393 extended

zcs-414.zip
2017-12-29
4.13

[K] Decoder-Software ab 37.7
[K] Mapping 14/8-Funktionen beim Laden von Datei korrigiert
[K] Eingabe Text korrigiert (Zahlen in falscher Reihenfolge)
[K] CV9 Einer/Zehner vertauscht - korrigiert
[K] Verbundadresse CV19+20 Fehler - korrigiert
[N] Soundset erweitert (CV346.2, CV835)
[N] Dimmwert-Gruppen (CV508-512) Bit 0,1,2 erweitert
[K] Funktionsmapping Effekte ergaenzt (Leuchtstoffröhren-Effekt, Bremsfunken)
[N] Automatischer Wechsel Einzel/Verbundadresse (CV22.6) neu
[N] Bremsweg CV830-833 neu
[K] Umschaltung Fahrverhalten Sound CV348 Bit 3 und 4 ergänzt
[N] E-Lok Schaltwerk Sound neu (CV350,359,360,361,363,393)
[N] SpeedLock Taste neu (CV356)
[N] Railcom Strom erhöhen (CV28.7) neu
[N] Alternativer Dampf-Takt (CV828) neu
[K] Servo Funktionsmapping Event 1-4 ergänzt (CV181-184)

[C] decoder firmware from 37.7

[C] mapping 14/8-functions loading from file fixed

[C] enter text fixed (sequence of numbers wrong)

[C] CV9 one/ten exchanged - fixed

[C] consist address error - fixed

[N] soundset extended (CV346.2, CV385)

[N] dimm value groups (CV508-512) Bit 0,1,2 extended

[C] function mapping effects extended (neon-light, brake sparks)

[N] automatical switch single/consist address (CV22.6) new

[N] brake distance CV830-833 new

[N] switch driving sound CV348 bit 3 and 4 extended

[N] electric engine switchgear sound new (CV350,359,360,361,363,393)

[N] speedlock key new (CV356)

[N] increase Railcom current (CV28.7) new

[N] alternative steam trigger (CV828) new

[C] servo function mapping event 1-4 extended (CV181-184)

zcs-413.zip
2017-01-29
4.12

[N] ZCS-Datei Decodertyp wird gespeichert und automatisch geladen
[N] Funktionsdecoder CV83 neu
[N] Verbundadresse CV19+20 erweitert
[N] Panto mit Servo CV186-189 neu
[N] Funktionsdecoder Zweitadresse mit Mapping neu
[N] Sound CV277 neu
[N] Mausrad ein/aus generell und im Fahrpult (siehe Einstellungen)
[K] Servo CV181-184 ergaenzt
[K] Advanced Mapping Fehler in CV431 korrigiert
[K] Fehler CV64 korrigiert
[K] Darstellung CV152.6/7 Richtungsbit korrigiert
[K] Lichtunterdrueckung CV107-110 korrigiert
[K] Advanced Mapping CV800-823 Laden/Speichern korrigiert

[N] ZCS file decoder typ is stored and automatically loaded

[N] function decoder CV83 new

[N] consist address CV19+20 extended

[N] panto with servo CV186-189 new

[N] function decoder second address with mapping new

[N] sound CV277 new

[N] mouse wheel on/off general and in throttle (see settings)

[C] servo CV181-184 extended

[C] advanced mapping error in CV431 fixed

[C] error CV64 fixed

[C] display of CV152.6/7 direction-bit fixed

[C] light suppression CV107-110 fixed

[C] advanced mapping CV800-823 load/save fixed

zcs-412.zip
2016-08-07
4.11

[N] MXULFA PoM Lesen ab Firmware 0.70 implementiert
[N] Neuerungen Decoder-Firmware 35.27 implementiert
[*] Hinweis: Funktionsdecoder 2.Adresse noch nicht implementiert

[N] MXULFA PoM read with firmware 0.70 implemented

[N] new features in decoder firmware 35.27 implemented

[*] remark: function decoder 2nd address not yet implemented

zcs-411.zip
2015-04-13
4.10

[N] Menü Decoder/Reset im Live-Modus
[N] Menü ?/Einstellungen Konsole ein/aus
[N] CV109+110 ergänzt
[N] CV124 Bit 7 (NEXT18) ergänzt
[K] Eingangsmapping überarbeitet
[K] Fahrdecoder/Funktionsdecoder Umschaltung überarbeitet
[K] Servo CV161 ergänzt

[N] menu decoder/reset in live-mode

[N] menu ?/settings console on/off

[N] cv109+110 enhanced

[N] cv124 bit 7 (NEXT18) enhanced

[C] input mapping revised

[C] loco/function decoder switch revised

[C] servo cv161 enhanced

zcs-410.zip
2015-03-09
4.09

[N] CV-Liste CV Schreiben Ergebnis wird mit Farben angezeigt
[K] Live-Modus diverse Fehler korrigiert

[N] CV-list cv write result is shown with colors

[C] live-mode errors corrected

zcs-409.zip
2015-02-23
4.08

[K] Initialisierung MXULF korrigiert (Fehler CV lesen)

[C] init of MXULF corrected (CV read error)

zcs-408.zip
2015-01-31
4.07

[N] Register Grundkonfiguration überarbeitet
[N] Lokdaten werden zu Beginn vom MXULF geladen

[N] register basic-configuration revised

[N] load loco data from MXULF at the beginning

zcs-407.zip
2014-12-14
4.06

[K] Effekte (CV125-132,159-160) überarbeitet
[K] Register Sound überarbeitet
[K] Live-Modus für Register ZPP ergänzt

[C] effects (CV125-132,159-160) revised

[C] register sound revised

[C] live-mode for ZPP register added

zcs-406.zip
2014-11-02
4.05

[N] Live-Modus für MXULF (Firmware >0.61.26) (siehe ?/Tastenkürzel und Maus)

[N] live-mode for MXULF (Firmware >0.61.26) (siehe ?/shortcuts and mouse)

zcs-405.zip
2014-09-27
4.04

[K] diverse Fehler korrigiert

zcs-404.zip
2014-09-09
4.03

[K] Fehler beim Lesen ZPR korrigiert

[C] error reading ZPR fixed

zcs-403.zip
2014-08-31
4.02

[N] Datei-Handlung ZCS/ZPR/ZPP überarbeitet (siehe ?/ZCS Überblick)
[N] Überprüfung auf Updates
[K] Diverse Fehlerkorrekturen

[N] file handling ZCS/ZPR/ZPP revised (see ?/ZCS overview)

[N] check for updates

[C] bug-fixing

zcs-402.zip
2014-08-08
4.01

[N] Sound CV726-737 ergänzt (ZPP-Datei)
[N] ZPP-Datei Speichern unter
[C] CV-Liste korrigiert
[C] Einstellungen COM-Schnittstelle mit Gerätenamen

[N] sound CV726-737 added (ZPP-file)

[N] ZPP-file save as

[C] cv-list bug fixing

[C] setup COM-ports with device names

zcs-401.zip
2014-07-18
4.00

[C] Advanced Mapping Zuordnungen korrigiert
[C] Servo Darstellung angepasst
[N] neues Installationsprogramm
[N] Anzeige und Ändern aller CV-Werte als Tabelle

[C] advanced mapping allocations fixed

[C] servo display adjusted

[N] new install software

[N] show and edit all cv values in a table

zcs-400.zip
---
Programmierumgebung / Development tool: PureBasic
Icons: Silk Icons
---