R/C Throttle for LocoNet and XPressNet
! Sold out - new batch coming soon ! Are you interested ? - Please contact me.
---
Content
North American readers PLEASE NOTE:
Due to the DECT-modul being used the R/C Link is not suitable for use in Canada and USA. For all Non-European countries please check the applicable R/C regulations prior to purchasing one of the units. More informations about DECT could be found on www.dect.org (frequency band must be 1880-1900).
---
Description
This is a complete throttle for LocoNet (Digitrax, Uhlenbrock) and XPressNet (XBus, Lenz) compatible DCC systems.
The R/C Throttle incorporates a standard DECT interface and thus provides complete wireless operation offering flexibility and freedom when operating DCC controlled model trains.
One base station can handle up to four R/C Throttles making the system suitable for larger layouts as well.
Due to the extensive capabilities offered by the R/C Throttle, a wide variety of operational control and functionality is provided. To ensure that this capability is not intimidating, a special "Child" mode is available. This allows them to use the R/C Throttle without however having access to the advanced capabilities.
Since the R/C Throttle uses proven DECT-Technology, it is superior as far as security, range and speed is concerned.

Digital Control Units
The R/C Throttle supports the following digital control units:
Bus
Manufacturer
Digital Control Unit
LocoNet
Digitrax
DCS100/DCS200 Chief
Digitrax
DB150
Digitrax
DCS50 Zephyr
Uhlenbrock
Intellibox
Intellibox with Firmware 2.0
Intellibox II
Uhlenbrock
63820 Adapter for Märklin 6021
Uhlenbrock
Daisy
Roco
Z21
XpressNet
Lenz
LZ100 / LZV100
Lenz
LH200
Lenz
Compact
Roco
Roco Lokmaus 2
Roco Multimaus Pro
Z21
tams
XNControl (Test)
If you want to use another digital control unit - please contact me. Perhaps there is a technical solution.
Capabilities
- display with backlight
- operate and drive loco
- 5 fast storages for loco addresses
- stack for loco address
- lights and functions F1-F12 and F13-F28


- operation as a consist
- control of switches
- switch routes in BaseUnit
- "dispatch" and "acquire" locos [LocoNet]
- programming in 'Ops Mode' (prog on the main)
- apply and remove power from track
- emergency stop (complete system or loco)
- automatic powerdown
- "child" operation (all functions disabled, only the loco can be controlled)
- DECT Radio Control
- range up to 300m (900 ft) outside, up to 100m (300 ft) inside
- digital system LocoNet (Digitrax, Uhlenbrock) and XPressNet (Lenz) auto detection
- only one device-id for all throttles (XPressNet)
- power for R/C Trottle 2x AA batteries (alkaline or rechargeable)
- BaseUnit with USB-interface
- software-update by customer
- Windows-Software to program switch routes

The following picture shows the display of the R/C Throttle: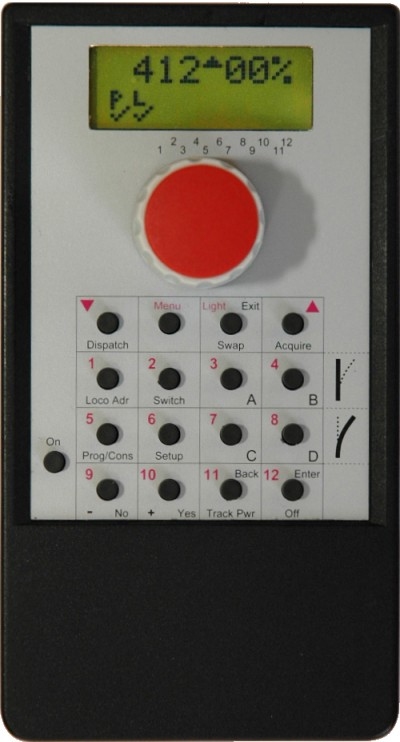 The following picture shows the BaseUnit: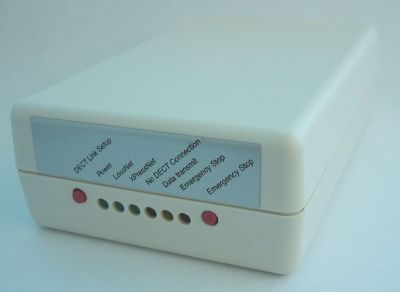 Technology
One BaseUnit can handle up to four R/C Throttles. Several BaseUnits can be connected to one central station. The maximum number of R/C Throttles is determined by the particular central station that is being used.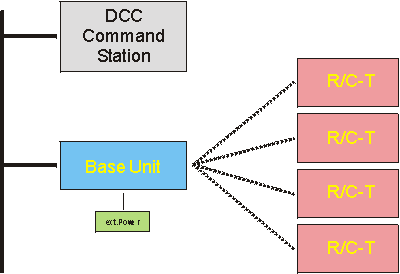 Power:
R/C Throttle: 2 AA-Batteries
BaseUnit: 12V AC or DC, 750mA
Dimensions:
(L x W x H)

R/C Throttle = 120 x 65 x 22 mm
BaseUnit = 120 x 65 x 40 mm
Idea
The idea to develop this R/C throttle came from my desire to own a wireless control unit that provided the ultimate in functionality, capability and ease of operation.
Based on numerous requests from other hobbyists, i build a limited number of these units on a "Non-Profit" basis. The prices shown for these units simply cover my costs; there is no additional profit margin built into the price.

Pricing / Ordering (2014-08-31)
| | | | |
| --- | --- | --- | --- |
| Artikel | Price in CHF | Price in Euro | Remark |
| RC Throttle | 350.00 | 292.00 | |
| BaseUnit Standard | 310.00 | 260.00 | |
| BaseUnit with ext.Antennen | 400.00 | 342.00 | !! sold out !! |
Currency rate: Euro 1.00 = CHF 1.20 (31.8.2014)
All information regarding testing of the R/C Throttle, prices and ordering details are covered in the Flyer which you can download here as a PDF-Document .
---
Software
You can download the current software and PDFs here: Link (german)
---
&copy 2018 by This Manhart - Last update: 2018-07-07