ZCS - ZIMO CV Setting Tool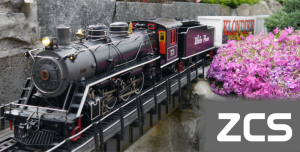 Der Gebrauch dieser Software erfolgt auf eigenes Risiko ! The usage of this software is on your own risk !
---
Inhalt
---
| | |
| --- | --- |
| Version: | 4.11 |
| Datum / date: | 2016-08-07 |
| Download: | zcs-411.zip |
ZCS ist Freeware. Support ist nur per Email möglich. EXE-Datei aus dem ZIP extrahieren und installieren.
ZCS is freeware. Support is only possible by Email. Extract and install the EXE in the ZIP.
---
ZIMO-Decoder besitzen inzwischen eine sehr komplexe Konfiguration mit vielen CV-Werten. Mit ZCS kann man auf einfache Weise die CV-Werte in ZPR und ZPP Dateien anzeigen und ändern.
ZIMO decoder have a very complex configuration with a lot of CV values. ZCS is a small software tool to view and change the CV values in ZPR and ZPP files.
Die Software ZCS wurde von Oliver Zoffi (Link) entwickelt. Mitte 2014 übernahm ich die Wartung und Weiterentwicklung.
The software ZCS was developed by Oliver Zoffi (Link). I toke over support and development in the middle of 2014.
---
Die Anleitung zu ZCS ist hier verfügbar: Link (Hinweis: nicht auf dem aktuellen Stand)
The manual is available here: Link (remark: not up-to-date)
---
[N] neu/new [C] korrigiert/corrected
Datum / date
Version
Deutsch
english
Download
2016-08-07
4.11

[N] MXULFA PoM Lesen ab Firmware 0.70 implementiert
[N] Neuerungen Decoder-Firmware 35.27 implementiert
[*] Hinweis: Funktionsdecoder 2.Adresse noch nicht implementiert

[N] MXULFA PoM read with firmware 0.70 implemented

[N] new features in decoder firmware 35.27 implemented

[*] remark: function decoder 2nd address not yet implemented

zcs-411.zip
2015-04-13
4.10

[N] Menü Decoder/Reset im Live-Modus
[N] Menü ?/Einstellungen Konsole ein/aus
[N] CV109+110 ergänzt
[N] CV124 Bit 7 (NEXT18) ergänzt
[K] Eingangsmapping überarbeitet
[K] Fahrdecoder/Funktionsdecoder Umschaltung überarbeitet
[K] Servo CV161 ergänzt

[N] menu decoder/reset in live-mode

[N] menu ?/settings console on/off

[N] cv109+110 enhanced

[N] cv124 bit 7 (NEXT18) enhanced

[C] input mapping revised

[C] loco/function decoder switch revised

[C] servo cv161 enhanced

zcs-410.zip
2015-03-09
4.09

[N] CV-Liste CV Schreiben Ergebnis wird mit Farben angezeigt
[K] Live-Modus diverse Fehler korrigiert

[N] CV-list cv write result is shown with colors

[C] live-mode errors corrected

zcs-409.zip
2015-02-23
4.08

[K] Initialisierung MXULF korrigiert (Fehler CV lesen)

[C] init of MXULF corrected (CV read error)

zcs-408.zip
2015-01-31
4.07

[N] Register Grundkonfiguration überarbeitet
[N] Lokdaten werden zu Beginn vom MXULF geladen

[N] register basic-configuration revised

[N] load loco data from MXULF at the beginning

zcs-407.zip
2014-12-14
4.06

[K] Effekte (CV125-132,159-160) überarbeitet
[K] Register Sound überarbeitet
[K] Live-Modus für Register ZPP ergänzt

[C] effects (CV125-132,159-160) revised

[C] register sound revised

[C] live-mode for ZPP register added

zcs-406.zip
2014-11-02
4.05

[N] Live-Modus für MXULF (Firmware >0.61.26) (siehe ?/Tastenkürzel und Maus)

[N] live-mode for MXULF (Firmware >0.61.26) (siehe ?/shortcuts and mouse)

zcs-405.zip
2014-09-27
4.04

[K] diverse Fehler korrigiert

zcs-404.zip
2014-09-09
4.03

[K] Fehler beim Lesen ZPR korrigiert

[C] error reading ZPR fixed

zcs-403.zip
2014-08-31
4.02

[N] Datei-Handlung ZCS/ZPR/ZPP überarbeitet (siehe ?/ZCS Überblick)
[N] Überprüfung auf Updates
[K] Diverse Fehlerkorrekturen

[N] file handling ZCS/ZPR/ZPP revised (see ?/ZCS overview)

[N] check for updates

[C] bug-fixing

zcs-402.zip
2014-08-08
4.01

[N] Sound CV726-737 ergänzt (ZPP-Datei)
[N] ZPP-Datei Speichern unter
[C] CV-Liste korrigiert
[C] Einstellungen COM-Schnittstelle mit Gerätenamen

[N] sound CV726-737 added (ZPP-file)

[N] ZPP-file save as

[C] cv-list bug fixing

[C] setup COM-ports with device names

zcs-401.zip
2014-07-18
4.00

[C] Advanced Mapping Zuordnungen korrigiert
[C] Servo Darstellung angepasst
[N] neues Installationsprogramm
[N] Anzeige und Ändern aller CV-Werte als Tabelle

[C] advanced mapping allocations fixed

[C] servo display adjusted

[N] new install software

[N] show and edit all cv values in a table

zcs-400.zip
---
Programmierumgebung / Development tool: PureBasic
Icons: Silk Icons
---
&copy 2016 by This Manhart - Letzte Änderung / last change: 7.8.2016